The Singh Project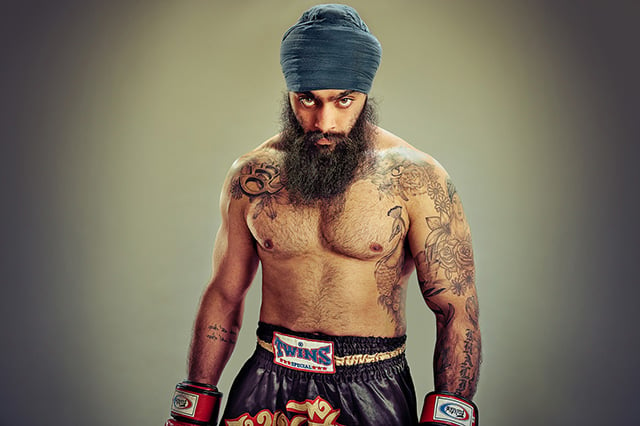 Punjab2000 were  invited to the private viewing of The Singh Project, that was held on Thursday November 6th at The Framers Gallery in London, to showcase Amit and Naroop's stunning photographic exhibition of thirty five original pieces that are striking, diverse and inspirational.
"Historically Sikhs were persecuted because of their turban and unshorn hair, but today these are symbols of revolution, non-conformity and style. The turban and beard are the most powerful and obvious symbols of the identity of a Sikh man. The Singh Project is a celebration of that identity."
Amit Amin and Naroop Singh Jhooti are both Sikh, raised in West London and came together eight years ago whilst photographing music artists. They have developed their style, built a name for themselves and photographed some big names in the music industry, including 50 cent, Tinie Tempah and Naroop's brother, singer Jay Sean, who was at the event with his beautiful family. Amit and Naroop have since broadened their horizons and have an intense bold style. It took just over a year to photograph these wonderful images at their studio.
The Sikh men featured at the exhibition come from a variety of backgrounds and ages including, students, teachers, performers, business men, sportsmen, religious priests and a magician. Many were present for guests to be able to meet them, take photos and ask questions about their experience being part of The Singh Project and to be able to see their own pictures for the first time.
It was wonderful to see non-Sikhs at the event too who were just as fascinated and excited by the portraits as I was, which are all special in their own right and each have a story to tell. It was also lovely to discuss with guests, what their turban means to them, the various styles, and how they are tied.
I met a very charming and witty gentleman called Ray who runs the gallery, who was extremely interested to know more about the images and asked many questions about Sikh culture and the turban. We discussed parts of my childhood, both the difficulties and humorous stories that I experienced being the daughter and younger sister of Sikh men with unshorn hair. I told Ray how much my dad loved to see the embarrassment on my face when he would wear his brightest coloured turban, matching silk tie and silk handkerchief, with the shiniest pair of shoes, whilst taking me to the school parents evening or attending sports day. My brother and I were the only Sikhs at school at the time and our dad thought that the local neighbourhood needed to see a sophisticated Singh, assuring us that one day a Sikh man and his turban would not only be fashionable, that we would stop feeling embarrassed and proud instead and would smile and have that warm feeling of familiarity every time we saw a Sikh man. Dad was absolutely right. I left the exhibition feeling extremely uplifted and am so glad that I got an opportunity to see the beautiful work created by Amit and Naroop. 
I highly recommend seeing the stunning photographs at The Singh Project. The exhibition is free and on until November 15th 2014 from 10am – 5.30pm at The Framers Gallery, 36 Windmill Street, London W1T 2JT.