Behind the Beautiful Forevers starring Meera Syal
Behind the Beautiful Forevers, a thought provoking play starring award winning writer and actress Meera Syal (best known for Goodness Gracious Me and Kumars at No42), had it's press performance on Tuesday night at the National Theatre, on the Southbank, London. It's a story about life, death and hope of those living in Annawadi, a slum close to Chhatrapati Shivaji International Airport, Mumbai.
Katherine Boo, a Pulitzer Prize winning writer, spent three years following the lives of some of the locals of Annawadi, Mumbai and wrote about their daily struggles in her book Behind the Beautiful Forevers, released in 2011. It has been brought to the stage by writer David Hare and directed by Rufus Norris who will be the Artistic Director at National Theatre from April 2015.
Despite India's huge economic growth, the most expensive house in the world, the glamour and wealth of Bollywood or the stunning new airport building, more than 40% of the residents of Mumbai still live in slums like Annawadi. It was an area built illegally on land belonging to Mumbai International Airport, densely inhabited, with migrants from all over India, varying in culture and religious backgrounds.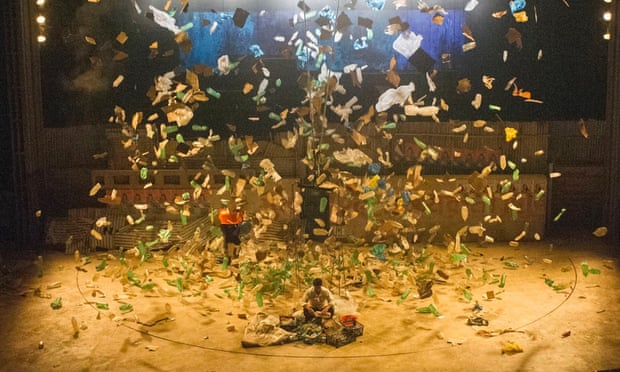 The opening scene in Behind the Beautiful Forevers introduces us to the stunted and malnourished orphan Sunil Sharma, a twelve year old rubbish scavenger, who dreams of growing taller by eating lots of good food. Meera Syal plays the part of Zehrunisa Husain, the no nonsense, freely swearing mother of loyal and honest sixteen year old Abdul, the breadwinner of the family. The Husains are considered relatively wealthy in comparison to their slum dwelling neighbours and hope to recycle enough garbage to fund their own new home. This angers one neighbour in particular, one-legged Fatima, who believes she deserves more than she has been given in life. Asha is the village fixer and social climber, works for Shiv Sena and can make the locals problems disappear, for a fee. She wants to give her studious daughter Manju the opportunities in life she didn't have. Even though Manju wants to be the first female from the slum to graduate she is opposed to her mothers way of making a living. There are many more interesting characters to see.
Global recession threatens many of the Annawadi inhabitants garbage trade and when another slum dweller accuses members of the Husain family of a serious crime, the entire neighbourhood is affected, changing the story considerably which is where we see unfortunately, that despair, destitution, corruption and bribery are a daily occurrence.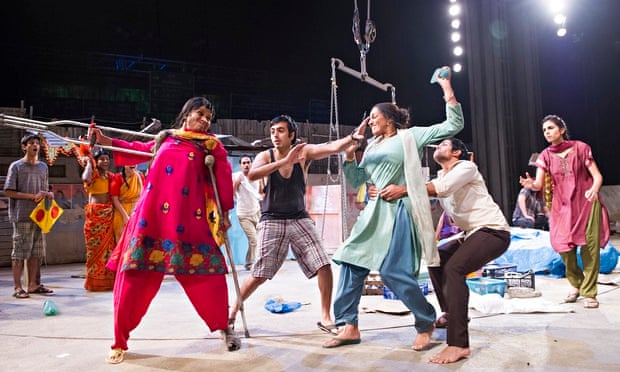 Behind the Beautiful Forevers is bold, raw and emotional. It's a visual delight full of colourful characters and sounds. It intends to shock and make you feel slightly uncomfortable, yet still manages to have several light hearted, warm and witty moments. As a person who loves creating characters from a variety of cultural backgrounds to amuse my close friends with, I'm extremely particular about the accuracy of getting accents right. Many films fail to do so but I couldn't fault the vast cast, some of whom played multiple roles and were extremely good. Behind the Beautiful Forevers is a real insight into one of the many slums in India, without the fairy tale ending.
The play is quite long with a running time of 2hrs 50mins, which includes a 20min break, with so many characters and scene changes but I highly recommend that you go and see this wonderful production, if you get the chance.
Behind the Beautiful Forever is on at the National Theatre until April 13th 2015 and will be broadcast live on March 15th 2015 to over 550 cinemas throughout the UK.